Canoe & Kayak Club & Dragon Boat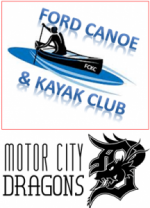 The club is primarily used to distribute canoeing and kayaking information to the 100 or so members. Nothing is required to become a member. You only need to be added to the distribution list. The main activity for the club are mid week paddles during the Spring through Fall. These paddles are after work. Attendance is typically limited to people who live near the event as many members do not want to drive far after work. The outings have been here for the past three years: Peche Island Windsor, Huron River Ann Arbor, Island Lake Brighton, and Pinckney State Park. Members are encouraged to suggest new outing.
For most people, they use the information from the mailing list to be informed of events in the Detroit area by various paddling organizations.
Additional Contract Info :
Dragon Boat: Csilla E. Gutay cgutay@ford.com