Chorus Club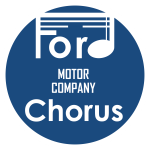 The Ford Motor Company Chorus is a recreational Soprano Alto Tenor Bass (SATB) chorus, whose members include Ford employees, family, and friends.  We invite anyone 18 years or older to join us, Ford or non-Ford.  Directed by Dr. Jonathan Drake, the Ford Chorus performs at several events within Ford and the surrounding community throughout the year.  The Chorus season runs from September through June, with a few events during the summer.
Fall 2016 Season – Practice location.  Due to the ongoing construction at WHQ, the chorus will be practicing at the Henry Ford Village (Senior Living) beginning September 12, 2016 through December 12th.  The address is:   15101 Ford Road, Dearborn.  (The facility is located on the southeast corner of Ford Road and Greenfield).  Enter at the main gate.  The guard is expecting members from the chorus and will direct you to the parking location. We meet Monday nights from 6:30 to 8:30 pm.
We are always looking for new members to join the Chorus.  If you enjoy singing, can sing in tune, and want to hear yourself improve, then we invite you to join us!   Not sure if you want to join? Come give us a listen.
For more information contact:
Karen Gaffney, Chorus President, 313-337-2574-W, kgaffne1@ford.com
Bill Curtiss, Chorus Vice President, 313-805-4865-W, bcurtiss@ford.com or bill.curtiss.home@gmail.com