New FERA Club Formation Process

If you have an idea for a new club contact Vice President of Club Activities;

FERA Awards Guidelines

Please review the Document Link below and send Detailed Nomination to feraawards@gmail.com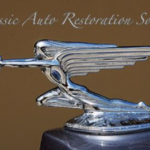 The Classic Auto Restorers' Society is a small group of classic and historical car enthusiasts. We meet monthly to discuss shows and events, tips and techniques, and share stories of our automotive experiences. During the summer months our meetings turn into drive-ins at local classic car friendly locations, including diners, restoration shops, etc.
Additional Contact Info:
Dan Davis drdan_48186@yahoo.com